MKU Limited
हम दुनिया की सबसे आधुनिक बुलेट प्रूफ हैल्मेट बनाते है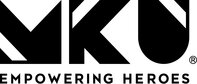 MKU Limited is a leading manufacturer and supplier of comprehensive ballistic protection solutions (for personnel as well as platforms) and electro-optic devices like Night Vision Devices and Day Optics. With an experience of over 3 decades, proven ahead of the curve technology and an experienced team, MKU has gained the trust of more than 230 forces in over 100 countries. In this period it has developed over 1000 protection solutions for more than 100 threats and has provided protection to over 1.5 million soldiers globally. It has designed and delivered light weight armouring solutions for over 2000 land, air and naval platforms.
MKU's infrastructure spans across 2 units in India and 1 in Germany. Units 1 & 2 are located at Malwan & Rooma near Kanpur. Unit 3 is located at Sittensen in Germany. It has its own Ballistic Lab located at its facility in Germany which conforms to testing standards laid down by various world renowned bodies.



It is a registered NATO supplier and has certified quality management systems conforming to ISO 9001-2008 and AS- 9100-2009. It follows the NATO AQAP standards and is a registered with IAQG (International Aerospace Quality Group).
View MKU Website